For patients who want to see clearly and become more independent of the need for eyeglasses or contact lenses, the Laser Refractive and Cosmetic Centers of Ohio Eye Alliance offer the latest refractive surgery techniques, including laser vision correction with LASIK, PRK, phakic intraocular lenses, and accommodative intraocular lenses for patients in the greater Canton, Alliance, and Youngstown areas including Stark, Holmes, Mahoning, and Columbiana counties of Northeastern Ohio. We use the latest technologies to provide this revolutionary procedure in the safest manner possible. Following LASIK surgery at Ohio Eye Alliance, most patients are able to rid themselves of glasses and contact lenses.
Ohio Eye Alliance is proud to have Dr. Sanjeev Dewan provide LASIK surgery for our patients.
What Is LASIK?
LASIK is an abbreviation for Laser Assisted Stromal In-situ Keratomileusis. LASIK is a sophisticated procedure in which the surgeon uses an excimer laser to reshape the cornea, the outermost part of the eye, in order to correct refractive errors such as nearsightedness, farsightedness and astigmatism. By reshaping the cornea, light rays can be focused onto the retina of the eye, allowing images to be seen clearly.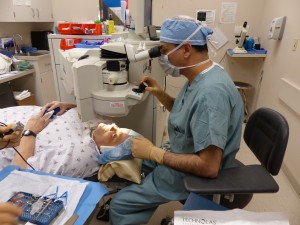 Are You a Candidate for LASIK?
The best candidates for LASIK are patients who are at least 21 years of age, in good general health and without conditions such as severe dry eye, cataracts, glaucoma or retina disease. Good candidates for LASIK should have a realistic and appropriate understanding of what LASIK can achieve, and be aware of and willing to accept the risks of the surgery. Patients who are good candidates for LASIK need to have corneas that are adequately thick to allow for safe creation of the corneal flap, which is a necessary part of the LASIK surgery process. Patients whose corneas are too thin may be offered an alternative laser eye surgery procedure such as PRK, which does not involve the creation of a corneal flap. The PRK procedure is equally effective as LASIK, and a bandage contact lens is placed for comfort for three to five days after the treatment.
To determine your candidacy for LASIK, the refractive surgeon will meet with you for a complimentary refractive consultation. If you are considering LASIK, please call the Laser and Cosmetic Centers of Ohio Eye Alliance today to schedule an appointment.
The LASIK Procedure
Several important steps are involved in the LASIK procedure: the determination of the refractive error of the eye, the creation of a flap, and the laser sculpting or ablation.
Firstly, the eye's refractive error is measured and the shape of the eye surface is determined with the use of state of the art technology provided by the Galilei topographer. This unique and innovative device uses a combination of "Dual Scheimphlug" and "Placido Disc" techniques helps to screen for conditions such as Keratoconus that may make LASIK less safe.
The next step is to measure the shape of the eye as a whole using a "Wavescan". This is a leading-edge digital technology that scans the eye and provides a customized map of the corneal surface that is as distinct to each person as a fingerprint. This diagnostic information is supplied to the excimer laser for accurate vision correction.
A flap is then created in the cornea. This usually involves using a microkeratome, a blade-like device that creates a flap with high accuracy. A bladeless option is also available using an IntraLase femtosecond laser.
The flap is then gently lifted aside, and the Excimer laser reshapes the exposed cornea by removing small bits of tissue in a very controlled manner. This process is known as "ablation." Ohio Eye Alliance uses the VISX Star S4 IR Excimer Laser System, the latest and most advanced excimer laser on the market. After the surgeon has completed reshaping of the cornea, he carefully repositions the flap, where it serves to protect the treated tissue during the healing process. Stitches are not used in LASIK. The procedure is painless and is complete in about five minutes.
After LASIK
Following the LASIK procedure, we ask that you take a nap for a few hours at home after which many patients notice immediate vision improvement. Some patients experience more gradual improvement. Most patients achieve 20/20 vision or better after LASIK and are excited about being able to enjoy their favorite activities without the bother of eye glasses or contacts.
To learn more about LASIK or to schedule a one-on-one consultation with our refractive surgeon, please call our office at Alliance: (330)823-1680, Canton: (330) 966-8469, Canfield: (330) 533-1041, or (800) 423-6811 to schedule an appointment.
At the time of your consultation, a skilled eye care professional will perform a thorough refractive eye evaluation to determine whether you are a LASIK candidate or whether you should undergo a different procedure, such as cataract surgery. You will view a video describing the benefits and risks of refractive surgery, and meet with the refractive surgeon to answer any
questions you may have. Please avoid wearing soft contact lens for two weeks in advance of the visit and hard or gas permeable contact lens for three to four weeks prior to your visit, and remember to bring your eyeglasses with you.
In addition, we can provide advice regarding various complementary cosmetic eye procedures, such as Botox, Juvederm, blepharoplasty and eyelid surgery.